Avenidas utilizes print advertising to help drive 300 people to their Birthday Bash
Background
Avenidas, a non-profit organization founded in 1969, provides information and programs for older adults on the mid-Peninsula. With two enrichment centers in Palo Alto, they offer services as varied as transportation, handyman help, physical therapy, foreign language instruction, and improv classes.
Avenidas is a longtime advertiser with Embarcadero Media and consistently advertises in print to reach residents on the mid-Peninsula, many of whom rely on the news only available via Embarcadero Media newspapers. "I think everyone reads your paper on a weekly basis to stay up on local news, and so it's important that we be in the Weekly," says Vice President of Marketing & Communications Kari Martell.
Goals
Last October, Avenidas hosted a 50th birthday party to celebrate its five decades in Palo Alto. They wanted to ensure a large turnout while also informing people about their offerings to ultimately get people to try their programs and services.
Avenidas invests in internal outreach efforts including a weekly newsletter sent to opt-in subscribers. But for their 50th birthday party they wanted to attract a wider audience of locals and reach new residents who weren't on their mailing lists. "We wanted it to be intergenerational and family friendly, which is a different audience for Avenidas," said Martell. "We wanted to get parents to bring their kids and grandparents to bring their grandchildren."
Solution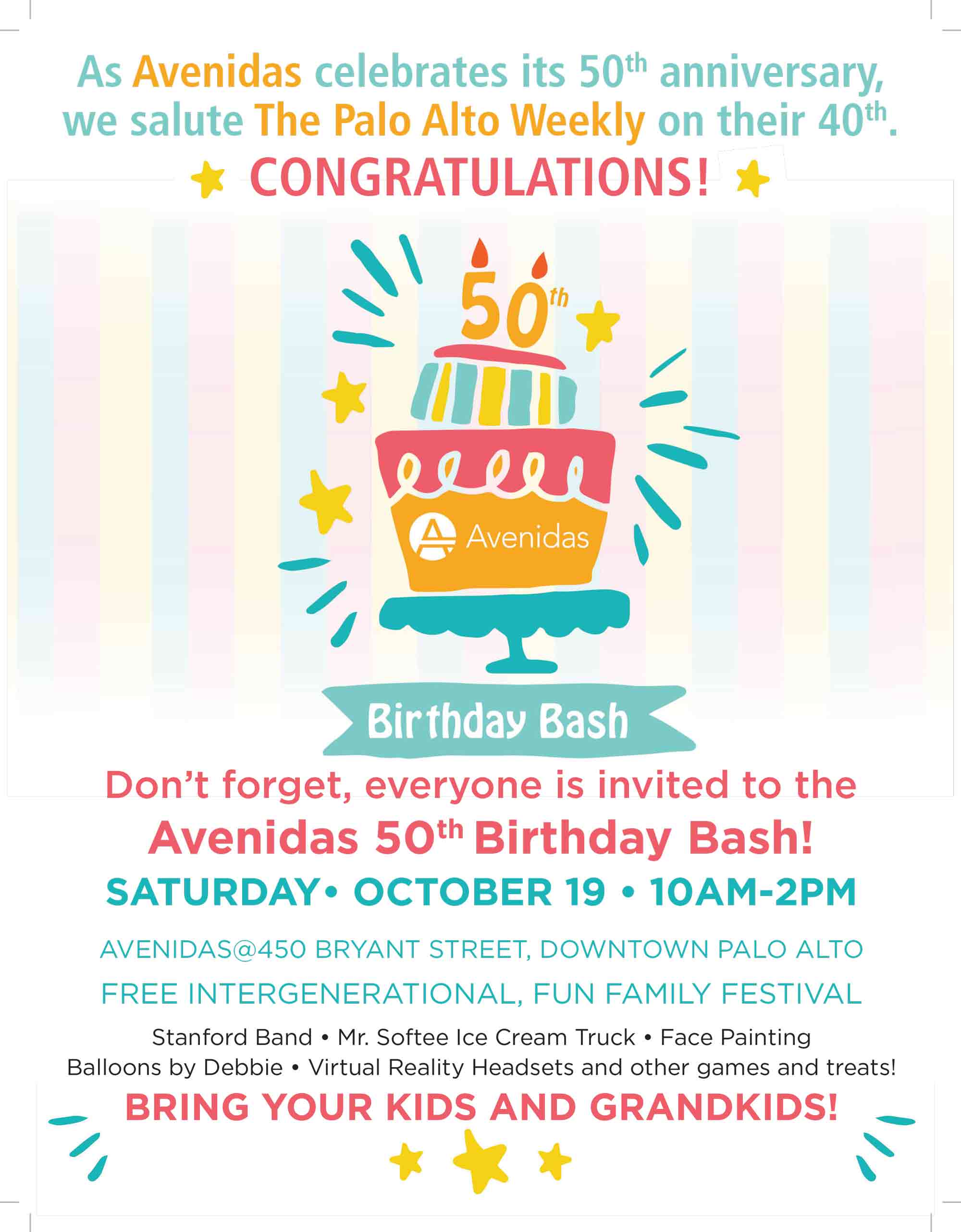 To reach their desired target audience, we set up an integrated campaign focusing on our three popular Peninsula papers - Palo Alto Weekly, Mountain View Voice and The Almanac which together serve: Woodside, Atherton, Menlo Park, Portola Valley, Palo Alto, East Palo Alto, Mountain View, and Los Altos. Many residents rely on their Embarcadero Media publication exclusively, as no other newspaper covers their cities in depth or at all. This provides a dedicated channel for advertisers to micro-target the promotion of regionally specific events, stores, restaurants, and services and ensure their message actually reached homes of seniors themselves or adult children of seniors.
Avenidas ran Birthday Bash ads in the Palo Alto Weekly, the Mountain View Voice, and The Almanac for the three weeks leading up to their event. Collectively, the papers are sent to 33,000 mid-Peninsula homes, with an additional 27,000 distributed to local businesses and street boxes, reaching a total of 60,000 local readers.
Results
At their 50th birthday party on October 19, the staff at Avenidas were thrilled to see the result of their marketing effort. "We had almost 300 attend, and it was a great day," says Martell. "Everyone had a lot of fun, and I think people learned a lot about what Avenidas has to offer."
Not only did Martell see the foot traffic she was hoping for, those who attended were able to see first-hand the array of services offered by Avenidas. Our comprehensive and targeted ad campaign successfully attracted a demographic that exceeded the typical reach of the organization.